The Ozark CDV500 is a volumetric chemical dispensing system suitable for dispensing to continuous or batch applications. The system is flexible both in terms of the number of components or chemicals that it can handle and the number of delivery points that can be fed from one system.
Material supply to the system can be from bulk storage IBC's or drums and system piping is in stainless steel. Control valves for the system are of stainless steel/PTFE construction.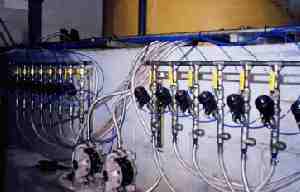 A stainless steel control panel containing the control computer and associated devices is supplied as part of the system. System software is flexible in its approach, and is written with the user in mind. Additional modules can produce management, stock level and costing reports, and can interface with machine controllers and Checkweigh recipe systems.

Right: CDV500 system installed in USA
Formulae are stored at the dispense computer and called up by name, lot number or other unique customer identifier. Alternatively, individual products and quantities can be requested along with the destination machine identification. Confirmation of entries is requested, following which the dispensing of products takes place. On completion of dispensing an automatic wash cycle is initiated.
Monitoring of destination tank levels is possible, allowing repeat dispensing of formulae until this is cancelled manually by the system operator or automatically when the correct number of batches has been completed. Level indication can also be provided for the supply containers, to ensure continuity of product supply to the system.
All Ozark CDV500 systems are supplied with a modem to enable on-line support and system upgrades as required.
MF4 Valve • PD Series • CD200 • CD60 • Checkweigh • Mixers • Software
• Water Savers •
Home • Equipment • FAQ's • News • Support • Contact Us

Top of this page