Ozark DISPENSETrak software runs on a multi-user, multi-tasking platform under Windows™, and can also be configured to run on a DOS platform if required.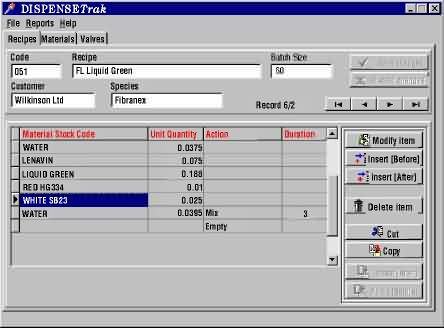 Dependent on the system type, certain features within the software can be enabled or disabled as required. This allows the flexible software to operate at the optimum level.
Right: A typical dispense screen

A typical software configuration includes:
Material set-up: • Material name • Value per unit • Strength • Valve position
• Pump position • Alternate position

Formulation set-up: • Dispense order • Tolerance • Chemical or colour • New job
• Refill • Alteration feature

Valve set-up: • Position on system • Tolerance per flow rate • Queuing
• Diagnostics
Reporting: • Material usage • Costings against customer • Costings against job
• Costings against design • Formulation • Formulation updating and retrieval
• Number of batches dispensed
In addition, full diagnostics for the system are available, as is the ability to interface to other Ozark systems and factory networking systems. PC support from remote locations is also available.


MF4 Valve • PD Series • CD200 • CD60 • Checkweigh • CDV500 • Mixers
• Water Savers •
Home • Equipment • FAQ's • News • Support • Contact Us

Top of this page