The Ozark CD200 fully automatic gravimetric chemical dosing system enables the user to control the dispensing of a number of products, completely automatically. Weighing of between 1 and 48 components in any formula is possible, since the unit is available with up to 48 dispense valves.
Dispensing is computer controlled, utilising an industry standard, force-compensated stainless steel scale. Components are individually dispensed into the receiving mixing tank, which is mounted on the scale. On completion of each dispense the mixer is programmed to ensure the thorough incorporation of the dispensed chemicals. If the system is configured with multiple outlets to individual process stations the correct delivery line is then selected and the built-in pump transfers the formula to the process. Once dispensing, mixing and product transfer is complete, washing of the valve outlets, the mixing tank and the pipework takes place prior to the next formula being weighed.

Recirculation can be incorporated into the system for products that have a tendency to settle during storage. Products can be fed to the system from bulk tanks, IBCs or drums, or direct from suppliers' containers.
Below right: Colour & chemical dosing to a non-woven process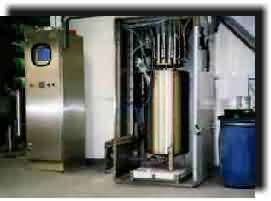 Throughput of the system will vary, dependent upon site configuration and the nature of the products to be dispensed, but typical throughput for a full cycle (empty-weigh-discharge) for 6 components is 5 minutes, with an accuracy for chemicals of 5 grams. Colour accuracy is, typically, better than 1g.
A high-accuracy version of the dosing system, dispensing to an accuracy of better than 1g, is available for processes incorporating high value or critical components.
The CD200 system can be supplied with a modem to enable on-line support and system upgrades as required.
MF4 Valve • PD Series • CD60 • CDV500 • Checkweigh • Mixers • Software
• Water Savers •
Home • Equipment • FAQ's • News • Support • Contact Us

Top of this page