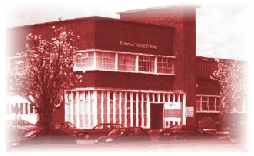 Treforest Textile Printers, UK, has automated chemicals handling for its fabric preparation with chemical dispensing from Ozark Systems. It plans to install further equipment from the same supplier for its finishing stenters. (Treforest purchased a second CDV500 system in October 1999)

Left: Treforest Textile Printers' head office, Pontypridd
All of Treforest's business is on commission and over 90% of it is destined for the home furnishings sector. The Pontypridd company has three Stork rotary screen machines - two 16 colour x 72" wide and one 12 colour x 96" wide. It also has on-site engraving, a continuous washing range after preparation and two finishing stenters. Output is over 100,000m per week of printed fabric.
Formed in 1937, Treforest was part of Courtaulds until a management buy-out organised by managing director Mike Brimfield in 1992. The strategy was to concentrate on preparation, pigment printing, finishing and inspection of woven furnishing fabrics - activities that the company knew well and demand for which was growing.
Ozark's CDV500 dispense system in Treforest's preparation department has replaced a manual operation that had raised best practise questions from health and safety and environmental standpoints. The manual method needed a large batch of pre-mix preparation chemicals to be made up and then used over a period of time by the cold-pad-batch system. By dispensing fresh liquor mixes on demand, the Ozark System eliminates waste and avoids the loss of oxidising power over time that was a problem with a single large batch.
The system has made a positive contribution to a Cardiff University environmental evaluation project in which Treforest has recently begun to participate. Since installing the equipment Treforest has benefitted from an improved work area and a better quality of bleaching, with a more consistent level of whiteness, says production manager Colin Hopkins. The system generates a starting bath and then responds to fabric throughput and liquor pick-up by dispensing each chemical in turn and in the correct proportions, according to a level sensor in the bath at the bleaching machine. The chemicals involved are hydrogen peroxide, caustic soda solution, wetting agent, detergent and ammonium persulphate desize agent.
Dispensing is controlled by a PC that sequentially opens a valve for each product into a precision flowmeter and pumping system. Chemicals are prevented from interacting with each other in full strength by a calculated amount of dilution water fed through the system between each chemical addition. Water also cleans the system between batches. Additional water is delivered by an independent metered line to boost the rate of delivery, particularly on set-up.
A level sensor on the bleaching machine places additional demands on the side tank for further batches of the solution to be sent to the pad. Further sensors on the side tank generate demands on the dispense system for additional mixes. The host computer stores all the various preparation recipes as well as providing a modem link back to Ozark.
Treforest's print development manager, Karen Hurst, says that she is convinced the system contributes to the company's dedication to high standards of quality and consistency.
The above article is reproduced here by kind permission of World Textile Publications Limited
Home • Equipment • FAQ's • News • Support • Contact Us

Beginning of this article