Dr Ian Holme, BSc, PhD, C Chem, FRSC, C Text, FTI, C Col, FSDC
Department of Textile Industries, University of Leeds
Ozark Systems is a progressive company that offers a wide range of custom-engineered systems to satisfy all the diverse mixing requirements of wet processing industries.
Peter Hanmer, Managing Director, believes that Ozark Systems' approach to mixing processes offers many potential benefits and the company has already solved mixing problems within a number of well known processing companies.
Mixing - an essential operation
One of the most important operations in the formulation, application and use of products in wet processing is the mixing operation, for it is impossible to obtain a high quality end procduct from poor mixing. As wet processors strive to achieve the utmost from their equipment, increasingly their production systems demand the highest standards for mixing, dissolving, dispersing, homogenising and emulsifying chemical products.
Chemicals, dyes (particularly in powder and grain form), pigments, auxiliaries and finishes must all be mixed to exacting standards in order to achieve consistent and reliable mixing, time after time. These exacting criteria are taken as standard by Ozark Systems, who manufacture an advanced range of mixing equipment from small individual laboratory mixers to completely automated, computer controlled mixing stations.
Below: Twin-headed homogenising mixer unit as part of a fully automatic PD300D dispense line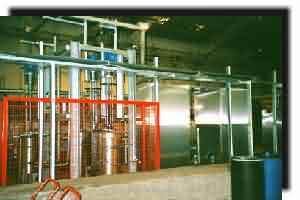 The Ozark Homogeniser Mixer
At the heart of any mixing system is the efficiency of the mixing element, and in the Ozark Homogeniser Mixer many companies have found the answer to their mixing problems, enabling them to produce superior products with a higher quality and added value. The Ozark Homogeniser Mixer is a high speed impingement homogeniser mixer that offers significant improvements in mixing performance compared with conventional mixers. It consists of a specially designed flat or spiral propeller operating at high rotational speeds. This generates a tremendous pumping action, creating high recirculation rates within the mixing vessel and up against the baffle plate. This results in a rapid particle breakdown, achieving faster dispersion and uniform homogenisation of the material in very short mixing times.
This significant advance in mixing technology has been achieved using the sophisticated grapefruit-style head. This novel design ensures greater suction through the head from the propeller, an important feature of this being that the degree of pitch of the propeller blades can be altered according to the requirements of the mixing process. The Ozark Homogeniser Mixer is also designed to have interchangeable propellers, which saves valuable time for those customers requiring a wide variety of mixing operations.
Home • Equipment • FAQ's • News • Support • Contact Us