An installation at Bonar Floors Flotex® production plant in Ripley, Derbyshire, is one of the latest systems supplied by process equipment manufacturers Ozark Systems. Key elements of the PD300D colour dispense system supplied to Bonar Floors are the KCC300 scales with ID1PLUS terminals manufactured by METTLER TOLEDO. Ozark Systems selected METTLER TOLEDO scales for this application because of the reliability and the service support provided.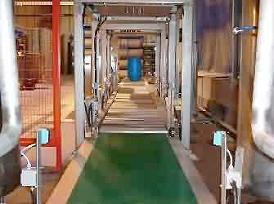 Right: Infeed conveyor incorporating METTLER TOLEDO components
The PD300D system supplied to Bonar Floors is designed to dispense dyes and chemicals to form print pastes which are used to apply colours and patterns to the company's highly durable Flotex® floor covering. Whereas previously Bonar had to make bulk quantities of individual print pastes before a print run commenced, the new Ozark system enables operatives to automatically estimate consumption of each screen colour and to dispense the required colorants directly into plastic barrels ready for the printing process.
Using a combination of driven belt and stainless steel roller conveyors, the PD300D transports the barrels through a sequence of functions. Beginning with empty barrels being delivered to the first dispense head, there thickeners and chemicals are automatically dispensed before they pass to a second, high accuracy dispense head for the addition of pre-dissolved acid dyes.
Because of the high number of shade requirements and importance of repeatability, accuracy is paramount.
METTLER TOLEDO's KCC300S weighing platform offers the HR resolution of 6000 to 32000e using the measurement principle of electromagnetic force compensation. The combination of this and the patented Ozark MF4 multi-stage dispense valve ensures that Bonar Floors achieve the required shade repeatability and a significant reduction in wasted colour.
Combined with the weighing platforms an IDPLUS weighing terminal is fitted to each scale. Data from the ID1 is processed by the Ozark control system.
The PD300D is one of a range of gravimetric colour and chemical dispensing systems designed by Ozark Systems using METTLER TOLEDO weighing components. Each system is designed and manufactured to customers' specific requirements, with the weighing capacity of each being dependent upon the systems' function.
The quality and reliability of the weighing systems specified is paramount. Peter Hanmer, managing director of Ozark Systems, comments:
"Our company has been producing dispensing systems since 1987 and we have consistently specified METTLER TOLEDO products as an integral part of them. We use them because not only are they extremely reliable, but also because of the excellent back up we get, both in the UK and overseas. Many of our systems are destined for overseas markets, so it is important to us to have suppliers who can provide local service support. With its worldwide network, and particularly with its strong presence in the US, METTLER TOLEDO offer us rapid response rates and first-class support levels."
Home • Equipment • FAQ's • News • Support • Contact Us