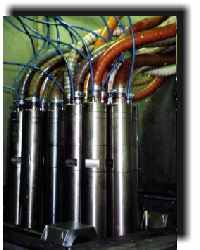 Since Albert Hartley, household textile printers, installed an Ozark Systems pigment dispense system two years ago they have enjoyed trouble-free operation. The secret proved to be the specially designed dispense valves which solved the problems of sticking and sluggishness.
"These are good valves," said Mr Colin Livesey, colour shop manager for Albert Hartley, "They are well engineered and very reliable. There's not a lot to go wrong with them, which is the whole point."
Right and below: Dispense head with Ozark MF4 valves installed at Albert Hartley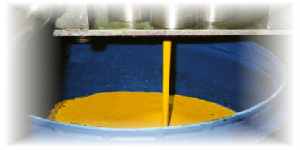 The valves are constructed in stainless steel and co-polymer and lack any adjustable elements. In this way dispensing variations cannot be achieved in error. According to Mr Livesey, the valves dispense around 65 tons of product a week and have given trouble-free service.
The dispense system installed by Ozark was the first to include this valve,designed by the company. They will not be degraded by the chemicals used within the process and their design reduces spray and spatter, particularly with liquids of a low viscosity.

"With good housekeeping and the reliability of Ozark's dispense valve, we achieve greater accuracy of mix and less raw material wastage," added Mr Livesey.
Home • Equipment • FAQ's • News • Support • Contact Us

Beginning of this article