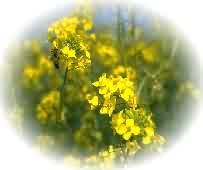 Germain's Technology Group (GTG), comprising Germain's, IST, ETS and Seed Systems, is the largest independent custom seed pelleting and enhancement company in the world and forms part of Associated British Foods. The role of GTG is to provide high performance seed pelleting and coating products linked with sophisticated seed enhancement to a worldwide customer base.
Seed applied crop protection demands increasing precision in material application - an area in which Germain's UK business has had many years' experience with perfected and proven technology. In 1999, as part of a continual improvement policy, Germain's took the decision to update the colour and agrochemical dosing system used to support their coating application equipment.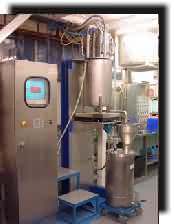 Left: CD200 gravimetric dosing system
at Germain's UK
Because of their extensive experience supplying technology and tailor-made equipment to international colour and chemical using industries, Ozark Systems was considered to be the ideal company to take the project forward. Following discussions, equipment was manufactured and delivered in November 1999. Installation went to plan and full commissioning took place within a few days, allowing the doser to immediately form an integral component in Germain's 24-hour production process.
In this particular case, the Ozark Systems CD200 dosing system is fitted with eight unique, computer controlled multi-stage precision dispense valves which precisely control the flow of product to the weighing/mixing vessel. Essential for the safe, reliable and economic application of pesticides to seeds and pelleted seed, the performance of this particular dispensing system has proved to be not only exceptionally reliable and accurate, but gives improved colour shade repeatability and rapid turn-round between product changes. The company has also been able to relocate staff to other production areas, since the system has enabled Germain's to reduce manning levels within this area by 33%.
The system software controlling the process at Germain's UK plant is Ozark Systems' DispenseTrak software, which was configured to Germain's specific requirements and allows full management reporting and stock control functions. Recipes are called up by the system operator and selected from DispenseTrak's on-screen menu. On-screen or printable report functions give full stock usage and stock level indications, by customer, product or order number, and low level stock warnings ensure that product levels are optimised at all times.
As a result of this investment, the coating department at Germain's can continue to respond confidently to all customer requirements and the involvement of Ozark has allowed planned expansion with the maintenance of the highest quality treatments.
Home • Equipment • FAQ's • News • Support • Contact Us

Beginning of this article