Edward J Elliott, PE
Bonar Floors Ltd of Ripley, Derbyshire, England invited Edward Elliott to discuss Bonar's recent strategic partnership with Lees Carpets Division of Burlington Industries.
Brian Hill, managing director of Bonar Floors, said, "we are very pleased with our new relationship with Lees. The marketing and design/styling strengths of Lees in the Americas, coupled with Bonar's world-class flooring manufacturing prowess, is a win-win for each firm and the clients they will serve."
Bonar's floor tile technology is recognised globally by the trade names of Flotex, Nuway, Coral, Chocflex ... each having a unique advantage for specific applications ... each dedicated to a 'performance differentiation'.
Flotex is a standard by which many floor coverings are compared. Bonar's proprietary technology in the electrostatic application of nylon 6.6 fibres to an organic, non-absorbent substrate has enabled the company to excel in the application of Flotex in hospitals, health care and other facilities in which cleanliness is next to godliness. Historically, health care sites specified highly waxed wood floors or very smooth surfaces of polymeric compounds - all in the belief that smooth surfaces cannot offer collection sites to harbour bacteria, mites and other potential airborne particulate matter. Shag and/or loop style carpeting and natural fibres were shunned in health care environments because of the many fibre surfaces that are 'home' for the incubation of mites etc. Although this treatise has some merit, in reality the real need is to accomplish two things: a) try to collect dust particles into a trapped substrate, b) afford efficient cleaning, ie, be able to remove - with conventional vacuum cleaners - dust particles from the floor covering surface.
Smooth floor surfaces are clean only immediately after the janitorial staff has completed its task. After that, dust and particulate matter begin to collect on the floor, and when people traverse the floor the dust/mites are 'stirred up' and rise to the nostrils of passers-by, subjecting people and patients to the untoward impact of airborne bacteria, mites etc.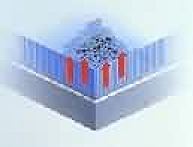 Left: Flotex™Construction
On a tour of Bonar's plant, Brian Hill explained that the use of long length nylon fibre avoidsthe adverse impact of short fibres escaping into the production atmosphere. In addition, the specially designed electrostatic equipment positions all fibres in a perfectly perpendicular relationship to the substrate surface. This characteristic is obvious in presenting an undetectable interface (seam line) between tiles and/or roll covering. It also means that a print design or pattern is visually exact, since there are no random or cut fibres that detract from the 'seamless' butting of carpet segments. Although these characteristics are important to appearance, Bonar found that such a perfect alignment of fibres also permitted the efficient removal of dust, mites etc during vacuum cleaning.
During the tour John Yuill, Bonar Floors' plant manager, demonstrated the Ozark Systems' colour dispense system containing 12 multi-stage patented dispense valves for acid (or pre-metallised) dyes. John Yuill stated that the flexibility and accuracy of the Ozark automated colour/dye dispensing system is an important contributor to Bonar's ability to replicate and repeat colour tubs consistently within an industrial environment, a factor necessary to meet the very stringent requirements and high specifications for colour patterns by Lees Carpets.
Printing is done on a 12-colour Stork-MBK rotary screen printer, with colour development and wahing on a Kuster 100-yard steam ager and vibratory washers. The British Allergy Association noted that Bonar's accurate fibre alignment allowed the best of both worlds: collect and entrap dust and mites without any adverse impact from traffic disturbance, then allow an efficient and effective removal using conventional vacuuming methods as used on smooth floorings, vinyl or carpet coverings.
Brian Hill concluded by saying, "the global recognition of Flotex will be available exclusively in the Americas from Lees Carpets, under the marketing name of NeoFloor". We all eagerly anticipate the positive impact that Lees will contribute to the indoor air quality (IAQ) of the air within American buildings, as Bonar has done elsewhere.
Home • Equipment • FAQ's • News • Support • Contact Us