As an integral part of the computerised system, Bonar Floors opted for an Ozark Checkweigh system, which controls and records the weights of incoming solid dyes and chemicals for preparation before dispensing into fixed IBC storage locations. The Ozark system pumps the liquid colours using a combination of AOD and gear pumps, with recirculation and in-line filtration, from the IBCs to the appropriate dispense valve. The powder scales are located in a downdraft booth for Health and Safety reasons, ie, elimination of any airborne dust.

Powerful
A 500Kg capacity load cell scale is available for the logging back of the small number of surplus returned colours, which can then be modified into new shades. Guar and maize gums are stored in Bonar's existing bulk containers and pumped to the dispense head by powerful progressive cavity pumps.

Should the print machine need a colour adjustment after initial dispensing, barrels can be returned direct to the dispense heads, where they can 'jump the queue' of any waiting empty barrels by means of a powered barrel lift station. Empty barrels are sent for washing to a brushless wash unit which utilises small amounts of high pressure water.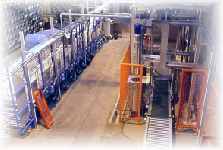 Right: Overhead view of Bonar Floors' PD300D system during installation
With the new dispense system, Bonar Floors is achieving rapid payback from the benefits of automation, which include the elimination of waste colours and chemicals, no delays caused by the print machine waiting for new colours, accurate weighing and increased print machine productivity due to elimination of coloration errors. Added to these benefits will be comprehensive computer logging of all dispensing and weighing functions, stock and material usage and significant Health and Safety at Work improvements to the working environment for operatives.
''As an ISO 140021 company, this project was initiated from our continuous environmental improvement programme,'' explained plant manager John Yuill. ''Investigations revealed that payback could be realised through waste minimisation, a reduction in trade effluent costs, increased print line efficiency and a reduction in labour costs. A number of automatic dispense and mix equipment manufacturers were considered, and various production sites visited where print managers and operators were asked how good their installed systems were. Ozark was the chosen supplier because of equipment performance, existing customer recommendation, price and level of service offered.''
The PD300D is one of a versatile range of dispense systems designed and manufactured by Ozark Systems. The range includes pigment, dye and chemical dispensing systems, all using the patented high accuracy Ozark MF4 dispense valve, as well as Checkweigh and dye handling systems.
The above article is reproduced here by kind permission of World Textile Publications Limited

Home • Equipment • FAQ's • News • Support • Contact Us

Beginning of this article