John Scrimshaw visits a Lancashire textile printer, where a change of ownership has brought a resurgence in confidence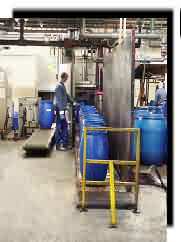 Left: Ozark automatic dispensing system
As established textile conglomerates splinter and disintegrate, trying desperately to discover the 'profitable core' that will satisfy their shareholders, life at the level of the operating company can be very uncertain.
After years of being made to work to a corporate agenda that was not necessarily in their best interest, they can suddenly find themselves declared 'unviable' and shut down at the stroke of an accountant's pen, or else cast on to the market at the mercy of the highest bidder, who may only want the pick of their machinery and their order book.
This might have been the fate of the Lancashire textile printer Albert Hartley Ltd, most of whose story is a familiar one. A family company, specialising in household textiles, with its own design departments, it was sold to Vantona in the 1970s, became part of Carrington Viyella and eventually Coats Viyella. Along the way it lost its design capability and was incorporated into CV's Dorma business, reduced to acting as an overspill facility and commission printer.

As CV moved its printing overseas in the 1990s, most especially to Pakistan, work became thinner and, in 1995, the making-up section closed after the loss of its biggest customer, Ikea. Barnoldswick-based Hartley's was in a position familiar to many such production units trapped within large organisations - well equipped and with high skill and quality levels, but without the freedom to test its muscle in the marketplace.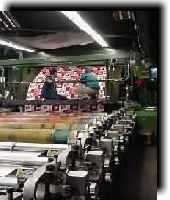 However, while so many companies of a similar kind have been lost in the past few years, Hartley's was more fortunate. Its eventual purchaser in the recent CV sell-off was one of its principal customers - another Lancashire company, R Soper Ltd. This family firm, based in St Anne's, retails fabrics as Sandown and Bourne and is a major supplier of home furnishings to mail-order companies.
Left: Printing production at Albert Hartley
Far from closing down Hartley's, it is putting more business through it and encouraging its management, led by managing director Sinclair Finlay, to diversify into new markets and operations. At its peak in the late 1980s, Hartley's had 550 personnel and was printing 700,000 metres of fabric a week. By the low point in June 2000, just 75 people were producing 100,000 metres a week. Now, for the first time in more than a decade, production is growing and Hartley's is recruiting extra people.
Specialising in pigment printing, the company operates four 3-metre Zimmer rotary screenprinting machines, capable of printing up to 16 colours, and a 2.4-metre flatbed machine that is proving especially useful in winning new business against the current fashion for all-over designs. It has three Bruckner stenters.
The simple fact that potential customers have confidence in its survival has been a significant factor in the company's recent success, after years of real or imagined closure threats. But in one genuine crisis, around five years ago, Mr Finlay accepts that Hartley's was saved by the installation of an Ozark Systems automated ink recipe and dispensing system that overnight replaced seven people and paid for itself in nine months.
Still a showpiece, the Ozark PD300D 24-valve, fully automatic pigment dispensing system was installed at Hartley's Barnoldswick site during the summer of 1996. This system replaced two existing automatic dispensing systems on the same site, and was the first system to incorporate the Ozark MF4 dispense valve. All the original valves are still in use on the system. At the same time Ozark supplied and installed and 18-valve chemical feed system to supply the factory's stenters.
The PD300D 24-valve system is a fully automatic system, providing finished mixed colours to the four rotary screen-print machines and the flatbed printer. The system produces batches from as little as 15Kg to 200Kg, and provides recipes on demand.
In addition to reduced manning levels, the system delivered savings in material costs and re-use of returned colour, which is an important feature of the system. Reduction of colour waste has led to savings of £1,500 per week on disposal of pigment paste, while the combined saving on labour and waste colour is calculated at £212,000 a year.